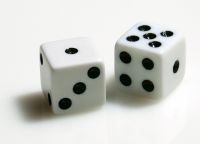 Writing Ideas and Prompts

Writing Ideas and Prompts
I never start writing a story or a novel with a full-blown story--with beginning, middle, and end--that I can merely sit down and write. Sometimes I'll have a cool idea for a character, or a milieu, but no real story to go with it. Sometimes I have a scene, with no idea of what happened before and what will happen afterward. Sometimes, like when I tried the Story a Day challenge in May, I start with no idea at all, but need to start and complete a story within the next 24 hours.
Over the years I've collected or created several random generators and lists that help me flesh out stories I've already started, or give me the seeds for new stories. I've found that the best stories start with having two very different ideas and finding out what happens when they're bashed together. The links below generate random characters, random jobs, random emotions, even random plots that you can drop into a story or use to create a story.
The lists I have created are still very much a work in progress. If you have ideas for things to add to the lists, please e-mail me at: julia at juliahwest dot com and let me know.
Science Fiction
Fantasy
Contemporary
Emotions
Idea Generators
The 37 Dramatic Situations
Other Random Generator and Idea Sites

There are several sites I have found incredibly useful when writing--especially when I need something quickly and don't want to take the time to research.

Seventh Sanctum has a plethora of generators--names, story ideas, characters and many more. It also has links to other sites with random generators. I use this site constantly.

Serendipity is another random generator site I use often, especially for names.

Hatch's Plot Bank has thousands of plot ideas to choose from.

The Big List of RPG Plots. General plots taken from many role-playing games.

Everchanging Book of Names (EBoN). This one you'll have to download to use (it's shareware), but it's well worth it. There are dozens of random name generators based on various historical and modern countries' naming systems, as well as quite a few from fantasy milieus (and Star Trek).